Guttering, Fascias and Soffits

SWF is a reliable, affordable roofing business offering quality roof repairs or roof replacements including guttering, fascias and soffits across Shropshire, Cheshire, Staffordshire and North Wales. We have offices in Market Drayton, Chester & Shrewsbury and we take care of any roofing job across the region.
Contact us for a free no-obligation quote.
There is no callout charge, we give free advice and estimates, do not take deposits, are fully insured and are Environment Agency registered and we recycle all wood and plastic.
Guttering, Fascias and Soffits
We can supply and fit all types of UPVC fascia boards, bargeboards, soffits, dry verges, guttering, downpipes and cladding etc. on any domestic or commercial property. Contact us for a free no-obligation quote.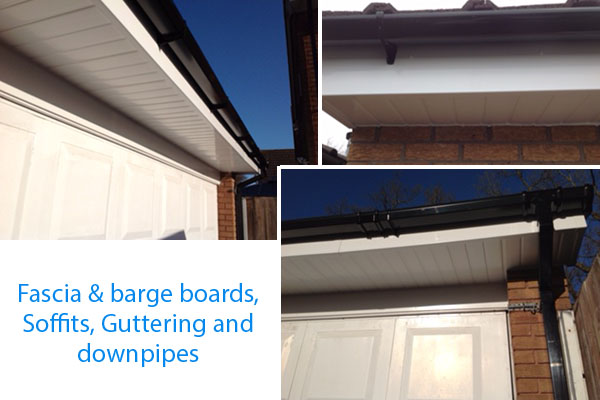 If you are having problems with your fascias and soffits, or you would simply like to reduce the external maintenance costs of your property, give SWF a call. We will be happy to remove the existing or rotten woodwork and fit new UPVC fascias, barge boards soffits, down pipes and guttering
We can colour match your existing fittings.
No maintenance!
We provide expert advice, and supply and install UPVC roofline products that are manufactured from high quality UPVC, to give you complete peace of mind, SO NO MORE REGULAR PAINTING AND MAINTENANCE.
Guttering
We can repair leaking gutters or fit new guttering to your property.
Guttering comes in black, grey, brown or white and can be supplied in round or square formats to match your property.
Fascias and Soffits
Fascias and soffits are the box sections around the edge of your roof to which the guttering is usually fixed. On older properties they may be wood but we fit state-of-the-art uPVC which requires no maintenance and is long lasting.
Scaffolding
We keep your costs down by supplying and erecting our own scaffolding on sites where scaffolding is required.
We will keep the site clean and tidy during our work at your property.
Great service
We offer an expert roofing service and friendly no-nonsense advice on all roofing projects from minor roof repairs to full roof replacement.
We are not tied to any one type of product or roofing system so you can trust us to be independent and offer the best advice and products for you, your budget and your home.