Eave protectors

SWF is a reliable, affordable roofing business offering quality roof eave repairs or eave replacements across Shropshire, Cheshire, Staffordshire and North Wales. We have offices in Market Drayton, Chester & Shrewsbury and we take care of any roofing job across the region.
There is no callout charge, we give free advice and estimates, do not take deposits, are fully insured and are Environment Agency registered and we recycle all wood and plastic.

Are your eaves protected?
Pitched roof underlays are normally dressed into the eaves gutter, leaving a strip of material exposed to the elements. Some underlays can deteriorate and even completely disintegrate after relatively little exposure to water and sunlight. If no provision is made for eave protection this may result in the following problems:
Internal leakage
Damp ceilings and Damp bedrooms
Rotting of the rafter feet and Rotten soffits
Expensive future maintenance costs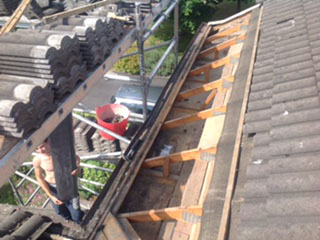 Damage caused by unprotected eaves
Water coming down the felt is not running into the gutter, but either runs down your fascia or runs behind the fascia board rotting the timber from behind.
Our eaves will not rot or corrode and will provide clear drainage into the gutters, leaving behind no hidden problems with your roof.
Please contact us for a free, no obligation, quote now.