Audura wall coatings

We can apply an Andura® Wall Coating to all types of domestic and commercial properties.
SWF is a reliable, affordable roofing business offering quality roof building services across across Shropshire, Cheshire, Staffordshire and North Wales. We have offices in Market Drayton, Chester & Shrewsbury and we take care of any roofing job across the region.
Contact us for a free no-obligation quote. There is no callout charge, we give free advice and estimates, do not take deposits, are fully insured and are Environment Agency registered and we recycle all wood and plastic.
Andura Coatings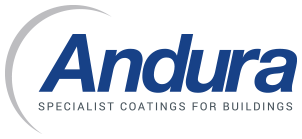 We can apply a durable coating to the exterior of any building. We can provide a huge range of colours to match an existing colour scheme or to give your home a facelift.
We use the industry leading manufacturer Andura.
There are many types of coating including the Classic 21 which is a high performance textured coating system for masonry, that eliminates the need for frequent repainting and maintenance of exterior walls.
Advantages
Excellent durability
BBA Approved
Mould resistant
High colour stability
Weatherproof and breathable
Resists acid rain and pollution attack
Scaffolding
We keep your costs down by supplying and erecting our own scaffolding on sites where scaffolding is required.
We will keep the site clean and tidy during our work at your property.